Refinished Hood Hinges
Cost to refinish Your Hood Hinges is $65.00

This includes removing the springs, restacking the pivot points, glass beading, Powder Coating (generally do the hinge bodies in gloss black and the springs in detail gray. I then then put a coat of clear on top of that).
Colors are your choice and if I have them in stock there is no additional charge for different colors, and then reinstall the springs
 You are responsible for shipping in both directions.
Below are some examples, if you click on the pictures it will bring up a new page with different views of the hinges, if you then click on a picture of a hood hinge on that page you will be presented with a larger picture of the same view
Buick Hood Hinges 1958
This is a one year specific hood hinge
                      
Cadillac Hood Hinges 1958
This is a one year specific hood hinge
                      

Camaro, Firebird Hood Hinges
fit years 1970 – 1981
                      

Chevelle 1964 Hood Hinges


Research says they fit:

Impala                                                  1963 – 1964
Chevy II Nova                                       1963 – 1965
Chevelle                                                1964
Tempest, Lemans, GTO                       1964 – 1967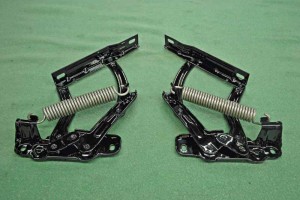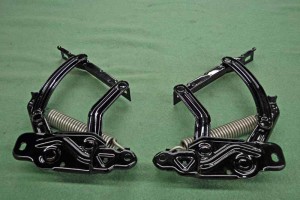 Chevelle 1965 1966 1967 Hood Hinges

Research says they fit:
Chevy II, Nova                                          1966 – 1967
Camaro                                                     1967 – 1969
Bel Air, Biscayne, Impala, Caprice          1965 – 1967
Chevelle, Malibu, El Camino                  1965 – 1967
Firebird                                                     1967 – 1969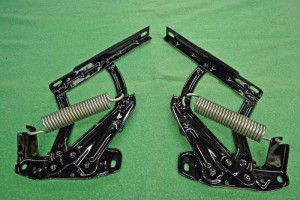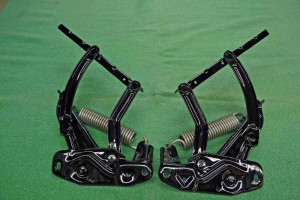 Chevelle 1968 Hood Hinges

Research says they fit:
Nova                                                         1968 – 1979
Chevelle, Malibu, El Camino                  1968 (stock steel hood only, will not fit reproduction)
Caprice, Impala                                       1968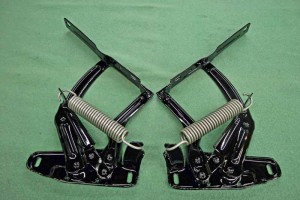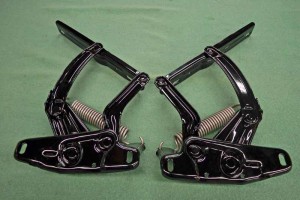 Chevelle 1969 Hood Hinges



Research says they fit:
Chevelle, El Camino, Malibu,                 1969 (Also fits 1968 Models with  aftermarket 1968 1969                                                                                     Chevelle & El Camino SS  Hood)
Bel Air, Biscayne, Impala, Caprice         1969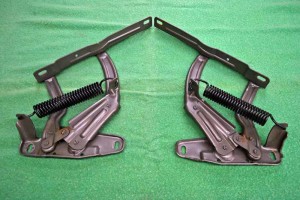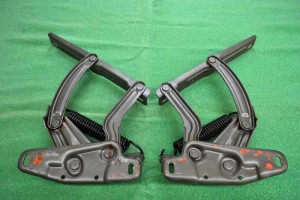 Chevelle 1970 1971 1972 Hood Hinges
Research says they fit:
Impala, Caprice                                                    1970
Chevelle, Malibu, El Camino, Monte Carlo       1970 – 1972
GMC Sprint                                                           1971 – 1972
                      

Cutlass 1964 – 1967 442 F85 98 88 Hood Hinges


Research says they fit:
Oldsmobile Cutlass, F85, 442, Vista Cruiser          1964 – 1967
Oldsmobile Toronado                                              1966 – 1967
Oldsmobile Ninety Eight, Starfire, 88 Series including;
JetStar, Dynamic, Delta, and Delmont                    1966 – 1967
                       

Cutlass 1969 – 1972 442, W30,W31, S, Rally 350 Hood Hinges



Research says they fit:
Oldsmobile Cutlass, 442, W33, W31, S, Rally 350       1969 – 1972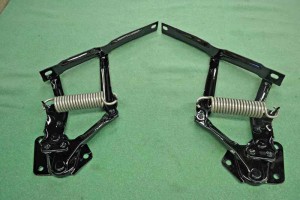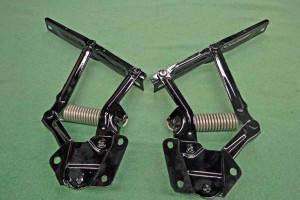 Dodge Dart 1962 Hood Hinges


This is a one year specific hood hinge
                      
GTO 1968 1969 1970 1971 1972 Tempest LeMans Hood Hinges
Research says they fit:
GTO              1968 – 1972
LeMans         1968 – 1972
Tempest       1968 – 1972
                      

Impala 1959 Hood Hinges

Research says they fit:
Impala, Sedan Delivery, Belair, Biscayne, El Camino                     1959 – 1960
The Hollander Exchange Manual says they fit full size Chevrolets 1959 thru 1960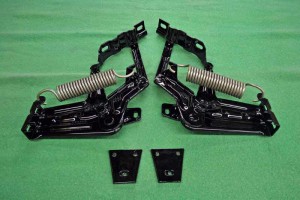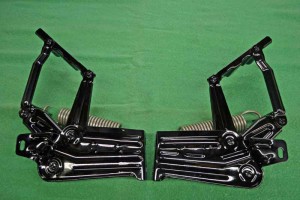 Impala 1961 Hood Hinges


Research says they fit:
Impala, and Impala Wagon                               1961
                      

Mustang 1971 1972 1973 Hood Hinges


Research says they fit:
Mustang                                                1971 – 1973
                      

 

Oldsmobile Super 88 1962 Hood Hinges


Research says they fit:
Oldsmobile Dynamic, Dynamic 88, Super 88, Holiday, Starfire       1961 – 1963
                      

Pontiac LeMans 1963 Hood Hinges 
May also fit 1961 and 1962
                       

Rambler 1960 – 1962 Hood Hinges
Hollander Exchange says they fit:
Rambler American                           1960 – 1963
                      

 

Skylark 1966 Hood hinges


Research says they fit:
Buick Skylark                           1966 – 1967
Buick Special                           1966 – 1967
                      

GM Original 1963 1964 Buick Riviera Hood Hinge Fender Support Brackets


Mounts
                     
GM Original 1965 Cadillac Coupe DeVille Hood Hinge Support Brackets
                      

GM Original 1959 1960 Impala Bel Air Biscayne Hood Hinge Support Bracket
Mounts
                      
GM Original 1962 Impala Bel Air Biscayne Hood Hinge Support Bracket
Mounts
                         
GM Original 1963 Impala Bel Air Biscayne Front Fender Hood Hinge Support Bracket